(The Only Mouse That Fits Like a Glove)
The Anatomically Derived Design is Scientifically Proven to address the Risk Factors
of Carpal Tunnel Syndrome and Repetitive Strain Injury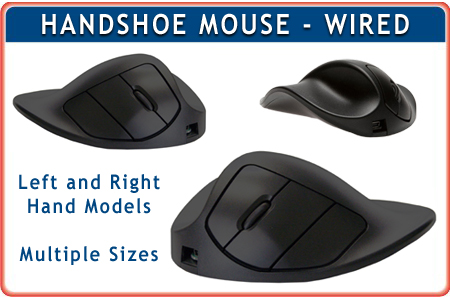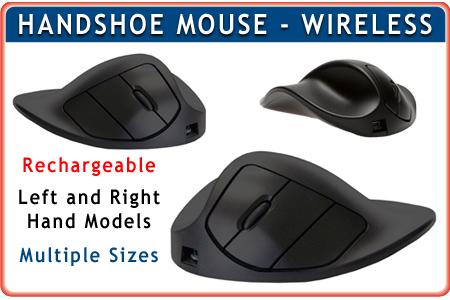 ---
Few people who work with computers as part of their daily routine are unfamiliar with these terms - even if they have not personally experienced any of the above the odds are high that co-workers or friends have already dealt with at least one of these. Studies indicate that 1 in 6 computer users currently experience one or more of these issues - if these issues were a virus, they might be considered an epidemic!
It should be no surpise, then, that these issues finally began to draw the attention of medical specialists looking for a 'cure' for this new disease. Extensive medical studies at Erasmus University Medical Center in the Netherlands as well as the National Taiwan University made it clear that traditional mouse design was to a great extent the root cause of these problems.
The HandShoe Mouse
The Only Mouse That Fits Like a Glove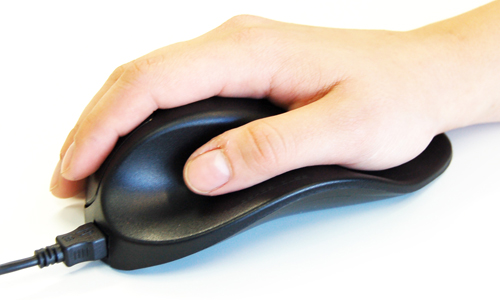 It became evident to the researchers at Erasamus that the best way to address these issues would be to design a new mouse built from a solid understanding of the human body and designed to be a 'natural' way of interfacing between human and computer. Repetive Strain Injuries (RSI), such as Carpal Tunnel Syndrome are common amongst computer users, leaving many unable to perform the day to day operations required to perform their work. Medical costs associated with these issues are soaring, as many otherwise healthy individuals succumb to the pain and limitations forced upon them by these conditions . At the same time, the cost of lost productivity for businesses continues to rise, as users find themselves forced to deal with daily pain and discomfort. Most often the end result is medical leaves of absence, Worker's Compensation and Insurance Claims, and ultimately the Loss of Ability to Work. Extensive medical studies were undertaken in an effort to gain a deeper understanding into the root causes of the issues most commonly associated with mousing. These studies eventually led to the development of an entirely new concept in mousing.
The introduction of the HandShoe Mouse presented a new paradigm in computer mouse design (see video below). The new concept moved users from the traditional Static Grip Force in an effort to control the mouse to a relaxed hand position while performing mousing tasks. This new design reduced stress throughout the hand, arm and shoulder by giving computer users the first truly "anatomically derived" or "orthopedic" mouse design with the potential to address known risk factors. As part of this solution, 4 Righthand and 3 Lefthand models are now offered. In addition, the HandShoe Mouse is available wired or wireless to meet the needs of varying work environments. The Extra Small (Corded only) model for the right hand will be available in early 2014.
A NEW PARADIGM...
The HandShoeMouse
Due to the success of the design, the designers continue to improve the performance of the HandshoeMouse through improved switches, electronics and other technologies. This success can be attributed to the the unique and patented shape (Patent 1 and Patent 2) of the HandShoe Mouse. This unique shape supports your hand in the best relaxed position and prevents the usual gripping and pinching action that usually occurs you use a standard mouse.
The capability of the traditional mouse design to perform the access to cursor control and activation cannot be denied - billions have used it over the years with great success. However, that successful usage has also created the problems referred to above as most traditional mice are simply too small for the hand and use a shape which forces both hand and fingers into an unnatural gripping position. This makes most conventional mice inherently uncomfortable. The requirement to Grip and Pinch, as well as hover above the mouse buttons are the major sources which may lead to Repetitive Strain Injury (RSI) or Carpal Tunnel Syndrome.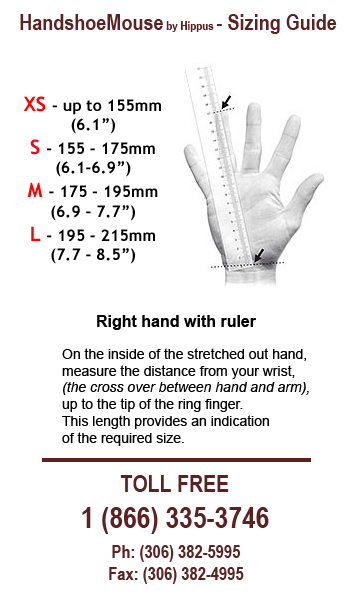 Step 1 - Size Selection
The comfort level and rate of success with the HandshoeMouse is dependent on not skipping this step. Ensuring that the correct size of mouse is selected and fits your hand properly is well worth the couple of minutes that it takes. The image to the right demonstrates how to measure your hand accurately. The appropriate size for each measurement is provided to the left of the hand. If your hand size fits at the cusp between two sizes, or your hand is particularly long and narrow or short and stubby, or if you are at all uncomfortable with making the size selection we strongly recommend that you take a few minutes and call our toll-free customer service line. One of our Product Specialists will confidently guide you to selecting the optimal size.
Step 2 - Select LEFT or RIGHT Hand
While almost all of us are naturally either Right or Left handed (generally making this an easy decision) it is sometimes wise to consider switching to our non-dominant hand especially if your existing mousing arm is already extremely aggravated. The HandshoeMouse will provide a much more relaxed usage and may well address issues without moving to the other hand. However, in case of extreme aggravation it may be an option to move totally away from usage for a period of time in order to permit the tissues to rest - the first step in recovery. Once inflammation or aggravation have been reduce you may want to purchase another Handshoe for your other hand. This will enable you to balance the mousing between both hands and arms.
Step 3 - Decide Whether You Want or Need a Wired or Wireless HandshoeMouse
Generally it is more suitable to purchase a wired mouse as wired devices overall tend to be more reliable in how they transmit data. This is common to ALL manufacturers as it is based on the fact that a wireless device introduces additional electronics in the form of a transmitter and receiver and communication now occurs via radio waves which are known to be susceptible to interference from a wide range of sources (cell phones, telephone systems, printers, etc.). If you work in a location where there is a high concentration of these sources of possible interference we would encourage you to consider a wired model of the HandshoeMouse. Despite these potential concerns, the HandshoeMouse has proven to be quite reliable even in these settings and the additional convenience which comes from reducing cord clutter may make it a good choice. The internal Lithium-ion rechargeable battery with which the Wireless HandshoeMouse is equipped is designed for long-life which means that other than regular charging (via the supplied cable) the Wireless model should not require battery replacement for several years. *NOTE: the Wireless HandshoeMouse can be charged while still being used but cannot be used as a "CORDED" mouse as the receiver is required for communication with the computer.